Probably one of the longest built enlarger systems, the Agfa Varioscop 60 endured more than 60 years of production.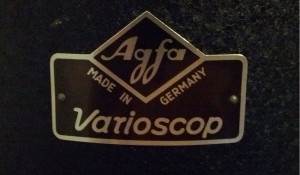 The Agfa Varioscope is a so called "autofocus" enlarger, which means that, once focused, you can change the enlarging ratio without the need to refocus. It's built like a tank and was used a lot in Drugstorse in the golden age of analogue fotography for the quick print. It is a multi format enlarger capable of formats up to 6x9cm, and comes with two matched lenses, 60mm for 35mm film and smaller, and 105mm for all other formats. One weak spot of the Varioscop's construction is that, for a proper working autofocus, you need to have matched lenses to the individual enlarger, as the control curves for the AF system are manually adjusted and matched to enlarger and lenses.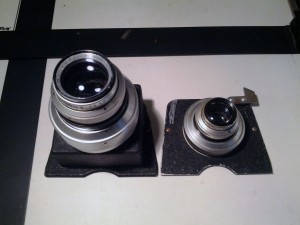 My lenses are designated "Solinar" which indicates a 4 lens tessar type design, later lensess found with Varioscops are called "Magnolar".
I got my Varioscop from a school which decomissioned its darkroom long ago, and it probably set in the basement for decades… It got some rust on the metal parts, but after cleaning and some lubrication it is just working as it should!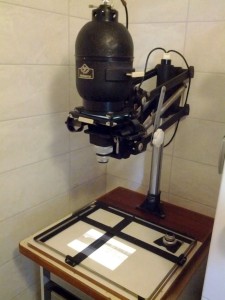 The construction of this enlarger is nothing short of massive, it weights more than 25kgs. Just have a look at the condensor (a 35mm film canister next to it for comparison)